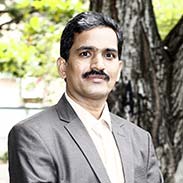 REV. DR. BABU C.
Associate Professor and Head of the Department
B.Th., B.D., M.Th., D.Th., (Senate of Serampore College [University] – UTC)
Church Affiliation: Church of South India
Contact Number: +918050807913
Email: babucnaik47@gmail.com
REV. DR. BABU C. is the Associate Professor and Head of the Department of the Department of History of Christianity at GLTC. He earned his B.Th. degree (200-2004) from the Allahabad Theological Seminary, Allahabad, U.P. and B.D. (2006-2008) from the United Theological College, Bengaluru, Karnataka. He has completed his M.Th. degree (2011-2013) from the Tamilnadu Theological Seminary, Madurai, Tamilnadu and his master's research work is entitled as "Impact of Christianity among Banjara Tribal Community in Bagepalli Taluk of Chikkaballapur District from 1982-2010." He earned his doctoral degree from the United Theological College, Bengaluru (2015-2019) and his doctoral dissertation is "From Divergence Towards Cooperation: Historical Shifts in Understanding of Mission and Evangelism among the Evangelicals and Ecumenicals (1961-2013). Dr. Babu has teaching experience in various theological institutions, such as Acts Academy of Higher Education, Bengaluru (2019-2020), Susamaachaar Theological Seminary and College, Bhopal (2014-2015), Antioch Biblical Seminary and College, Puducherry, (2014-2014), Elips Bible College (2009-2011). In additions, he has served in various capacities in academic and ministerial organizations as Coordinator, Librarian, Pastor, Team Leader and Grass Root Pioneer Evangelist, etc.
World Christianity and Mission, Ecumenism, Evangelical Movement, Independent Church Movement in India.
Academic Publications (Articles and Books):
"Global Ecumenical Theological Education Sprouts at Serampore College, India" (Academia, 2014).
"Building Bridges between Ecumenicals and Evangelical Churches: A Participant's Report." The Ecumenical Review (April 2014).
Religious Fundamentalism and Conversion-Some Implications on the Mission and Ministry of the Church India." (Academia, 2013)
"The Contribution of Christian Institutions to Excellence in Education," in Rachel Jebaraj eds., Towards Excellence in Education (Chennai: Almighty Book Company, 2012).