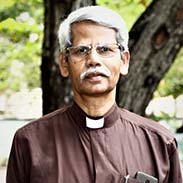 REV. DR. DANIEL KIRUBARAJ is an ordained minister of the Arcot Lutheran Church and serves as Professor of Communication at GLTC.
REV. DR. M. PETER SINGH is an ordained presbyter of the Church of North India (Kolkata Diocese) and currently serving as Professor and Head of the Department of Communication at GLTC. He had completed his B.D. studies at the United Theological College, Bengaluru and M.Th. from the Tamilnadu Theological Seminary, Madurai, and D.Th. from the Gurukul Lutheran Theological College and Research Institute, Chennai with with a research exposure at the Missionsakademie, Hamburg, Germany. Dr, Singh has twenty eight years of teaching experience as Lecturer at the Eastern Theological College, Jorhat, Assam, Professor at Serampore College and Tamilnadu Theological Seminary, Madurai and held various responsibilities such as Vice Principal of the Serampore College (Theology), Dean of Graduate Studies, Post Graduate Studies and Research Studies and Finance Officer at TTS. He has presented papers and written number of articles which are published in various national and international academic journals. Being a Theological Educator, he also has extensive experience in leading retreats and Bible studies and preaching in Convention meetings. He has been guiding severalPost-Graduate students and Doctoral Research scholars and Dr. Singh's doctoral research work is a pioneering contribution in the field of Cybertheology.
DR. SAMUEL SOUNDARARAJ SINGH serves as an Assistant Professor of Communication in GLTC.