Gurukul Summer Institute 2021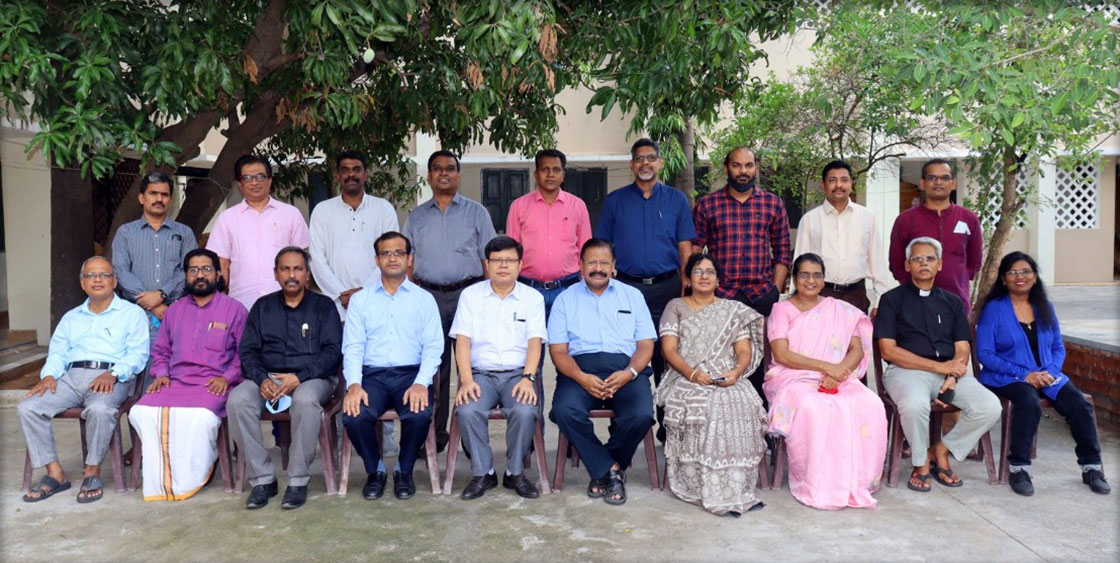 The Gurukul Summer Institute-2021 on "Pandemic and Faith" was held at Lebanon Retreat Centre of Arcot Lutheran Church, Tiruvannamalai from 30th May to 2nd June 2021. All the faculty members reached at the centre on 29th evening and the programme began with morning devotion and inaugural session on 1st June. Rev. Dr. David Rajendran, the Director of Quo Vadis delivered a keynote address on the set theme followed by greetings from Rev. Joshua Peter, the Executive Secretary of UELCI; Rt. Rev. V. Samuel Kennady, Bishop-Presidentof Arcot Lutheran Church and the other Executive members of ALC. Each day began with inspiring devotions and ended with joyful fun times in the evening.
The entire three days was spent for a rigorous academic reflections trying to find answers to the deep theological questions posed by the deadly covid-19 pandemic which has struck the entire globe more than a year now. Some of the hard pressing tough theological questions asked and reflected from multi-dimensional approaches were: 'Why such deadly Pandemic?"; "Who is responsible for this Pandemic?';'Has God gone against human?'; 'Is this Pandemic punishment of God?'; 'Is God disciplining the wicked human beings?'; 'Where is God in this Pandemic?', 'If God is in control, why this Pandemic?', 'Why bad thing happen to innocent and good people?', 'Why does the just and loving God allow poor and vulnerable people suffer most?'
In nutshell, the institute tried to explore the 'pain of Pandemic' and 'truth of Faith' among faith communities, analyse the impact of Pandemic in the contemporary Church and society, and develop theological and practical resources for faith communities to face the crisis of Pandemic and its aftermaths. In order to arrive at these objectives, the following twenty scholarly papers were presented by our own Gurukul faculty members:
"Pandemic: Conceptual Clarifications, Problematizing, Divesting into the reality and Theological Challenges" presented by Rev. Dr. M. Peter Singh
"Disease, Death, and Human Body: A Pandemic Perspective!" presented by Rev. Dr. John Samuel
"Pandemic Reading of Job: A Theological Explorations" presented by Rev. Nagaiyasamy N. S. Samuel
"Understanding the Covid 19 Pandemic with the Hebrew Bible" presented by Dr. Aravind Jeyakumar
"Pandemic in the New Testament" presented by Rev. John Pradeep Kumar
"Ubuntu Christ in the midst of Double Pandemic: Dalit Feminist Christological Debate" presented by Rev. Dr. Nelavala Gnana Prasuna
"Major Pandemics in the World History: An Overview" presented by Rev. Dr. David Joseph Raj
"Pandemic and Early Christians Response: Insights for Holistic Christian Witness in times of Covid19" presented by Rev. Dr. Babu C.
"Rethinking Sickness and Death in the Context of the COVID-19 Pandemic" presented by Rev. Dr. Giri Krishnan
"Critical Reflections on the Covid-19 and Its Impacts/aftermaths: Covid-19 and Community at the Margins" presented by Rev. G. Lalgi Vedha
"Rethinking Sickness and Death in the Context of the COVID-19 Pandemic" presented by Rev. Dr. Shanthi Sudha Monica
"Covid and the Aged: The Metaphor of sōma as a Hermeneutical Paradigm for caring the Aged" presented by Rev. Dr. Edwin Jebaraj
"Beating the Pandemic as Missio Dei: Lessons from Martin Luther" presented by Rev. Dr. Vinod S. Sailus
"Pandemic and Faith: Covid 19 and Migrants" presented by Ms. Rebecca Azariah
"Faith and Pandemic: Towards a Transgressive Theology and Ethics" presented by Rev. Dr. Mervin Shinoj Boas
"Positioning Faith in Pandemic: Hindu Theo-epidemiology" presented by Rev. Dr. Wilson Paluri
"Covid-19: A Call for Theological Equilibrium" presented by Rev. Dr. Daniel Kirubairaj
"Technological Mediated Competencies for Theological Education During Pandemic" presented by Dr. Samuel Sounderaraj Singh
"Theo-ethical Analysis of Pandemic and Faith: An Exploration Towards Theo-pandemology" presented by Rev. Dr. Songram Basumatary
"Pandemic and Faith: Towards a Paradigm shift in the Understanding of Church in its Mission and Ministry" presented by Rev. Dr. K. Vijayan
The presentation of these intense papers, the critical responses by the respective respondents and the creative conversions have made the Gurukul Summer Institute-2021 yet another unique Institutes manifesting the bold theological vision of Gurukul. Besides the faculty members enjoying the entire programme like an intellectual feast, it was also truly a time of fellowship, friendship and the spirit of oneness among the faculty members.
I, as convener of the Institute thank God for grace of wisdom and energy. I thank the GCC, especially the Treasurer for his wholehearted support in arranging and taking care of travel, accommodation and food. Last, but not the least, thanks and congrats to the faculty members their dedication and hard work for the success of the Institute.
Rev. Dr. Songram Basumatary
Convenor, Gurukul Summer Institute