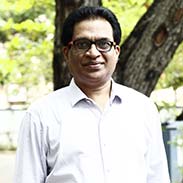 REV. DR. GIRI KRISHNAN hails from Kerala and is an ordained minister of the Assemblies of God Church in India. He is serving as the Professor and Head of the Department of Religions at GLTC. He did his B.D. studies at Union Biblical Seminary, Pune, M.Th. from Serampore College and and D.Th. from Bishop's College, Kolkata, which are affiliated to the Senate of Serampore College [University]. Formerly he served as the Principal of Kerala Theological Seminary, Kottarakara, Kerala. He also served as teaching faculty at Union Biblical Seminary, Serampore College, North India Institute of Post-Graduate Theological Studies – NIIPGTS, Gospel For Asia Biblical Seminary (GFABS), Tiruvalla, Kerala and at Mennonite Brethren Centenary Bible College (MBCBC), Shamshabad, Telangana. Prior to his full-time teaching ministry, he engaged in Pastoral Ministry with Assemblies of God in India (Kerala) and served as the Student Counsellor with Inter Collegiate Prayer Fellowship in Gujarat.
REV. DR. WILSON PALURI serves as an Professor of Religion at GLTC, Chennai and is an ordained priest of the Church of North India. He has completed his secular degree from Pune University (1995). He has earned his B.D. degree (2001) from the Union Biblical Seminary, Pune, and M.Th. (2005) from the North India Institute of Post-Graduate Theological Studies (NIIPGTS) with specialization in Hinduism. He has secured his doctoral degree (D.Th.) from NIIPGTS in 2014 and his doctoral research was on "The Liberative Social Philosophy Derived from the Life and Teachings of Sri Ramanujacharya." In addition, Dr. Paluri also holds a P.G. Diploma degree in Christian Management from the Martin Lutheran Christian University. He has been in the pastoral and teaching ministry for more than 20 years.He is frequently invited to preach at youth conferences and to speak at seminars on Hinduism and Indic religions. He is associated with Freedom of Religion and Belief (FoRB) movement since 2015 and serves as a trainer now. He is also a Lausanne Catalyst for Hinduism Network since 2019. He partners with RZIM and Hethne (International Movement) to dialogue and reach out to the Hindu friends. He has organized several dialogue sessions with Hindus and Buddhists. He has been on the Editoral Board of UBS Journal and Doon Theological Journal and has written and published a good number of articles in reputed journals on the topics related to Indic religions, social philosophy, and inter-religious relations.
REV. LALGIVEDHA is an ordained minister of the Methodist Church in India (Mumbai Regional Conference) and servers as an Assistant Professor of Religion at GLTC, Chennai.