DR. ARAVIND JEYAKUMAR MONIRAJ is a member of the Methodist Church in India and serves as an Associate Professor and the Head of the Department of Old Testament at GLTC, Chennai. He has secured his theological degrees B.D. (2001-2005) and M.Th. ([Old Testament] – 2007-2009) from the Gurukul Lutheran Theological College and Research Institute which is affiliated to the Senate of Serampore College [University], West Bengal. He earned his Doctor of Theology degree (Dr. Theol.) from the University of Hamburg, Germany in April 2019 as a scholarship holder of the Missions akademie at the University of Hamburg.Dr. Moniraj has been engaged in the field of theological education since 2005. He has served as a Lecturer at Indian Theological College, Chennai, Tamilnadu (2005-2007) soon after his bachelor studies; and as Lecturer (2009-2013) and Assistant Professor (2019-2020) in the department of Old Testament at the Leonard Theological College, Jabalpur, Madhya Pradesh.
REV. DR. NAGAIYASAMY N.S. SAMUEL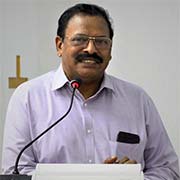 REV. DR. JOHN SAMUEL PONNUSAMY is a Presbyter of the Church of South India and serves as the senior Professor in the Dept. of Old Testament at GLTC. He has completed his B.D. degree from the Tamil Nadu Theological Seminary (TTS), Madurai and M.Th. (Old Testament) from the United Theological College, Bengaluru. He has earned his Doctoral Degrees (Ph.D.) from the Lancaster University, UK and Madurai Kamaraj University. Dr. Ponnusamy has served on the faculty of Tamilnadu Theological Seminary in the Department of Old Testament for many and have also shouldered several other administrative responsibilities. He has guided many Post-graduate and Doctoral Students. He was also heading the Institute of Indian Ecumenical Theology of the Ecumenical Christian Centre, Bengaluru. In addition, Dr. Ponnusamy also served as the visiting professor in Northern College, Manchester U.K. and Pacific Theological College, Fiji.