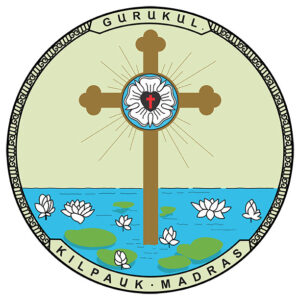 The Cross is planted in the lotus tank, the polluted water of which is being cleansed by its presence. Near the Cross, the water is seen to assume a brighter colour. The centre of the Cross is adorned with Luther's rose on which rests a heart, with a Cross. The rose is God's Love, in which the heart cleansed by the Cross, has found its rest. This is what 'Gurukul' stands for: The Gurus train Sishyas to communicate the salvific and liberative gospel of the cross to the people.
Rev. N. Samuel of Tranquebar designed the college monogram.
In the hands, pure as petals, of the blessed of the Lord
Deeply rooted in their heritage—the gospel of the cross.
Like the great white lotus spreads its scent, so from their hand,
May the gospel's fragrance sweetly pervade through this land.
Blooms the creeper as it climbs, entwined upon a tree;
To the Tree, hold on, every day, together, steadfastly.
As you blossom forth for India's sake from Gurukul,
May the Lord Jesus' blessings in your labour be rich and full.
From the pond, the Lotus looks up woken by the brightness
With much joy and ardour, and did Luther in that likeness.
With his eyes fixed on the cross, to mankind appealing,
Taught the truth—the word of God—words of life and healing.
Ours to study, discern the truth and hold to the Bible way
Ours, ever transfixed in deep devotion to Jesus dear, to pray
Ours to let the songs ring out; to the Holy One be love and honour,
And at the feet of the Triune God, day by day, be rooted stronger.
Rev. N. Samuel of Tranquebar composed the college song "Arulaar Putkarathil Thangi" (Tamil) in 1926.