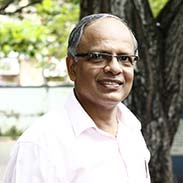 REV. DR. EDWIN JEBARAJ is a Presbyter of the Church of South India (Kanyakumari Diocese) and serves as Associate Professor and Head of the Department of the New Testament Department at GLTC. He has completed his secular degree M.A. from the Christian College, Marthandam, (1987). He has secured his B.D. degree from the Serampore College (1989-1993) and M.Th. from North India Institute of Post Graduate Theological Studies (NIIPGTS), Serampore (1998). He has completed his doctoral studies (D.Th.) at the Federated Faculty for Research in Religion and Culture (FFRRC) in 2010. He has been engaged in the pastoral ministry in the CSI Kanyakumari Diocese for almost seven years (1985-1989, 1993-1996). He has more than 19 years of teaching and administrative experiences in various theological seminaries. He has served in Gospel for Asia Biblical Seminary, Thiruvalla, Kerala (1998-2001, 2004-2010), Southern Asia Christian College (2010-2017), Indian Theological Seminary, Chennai (2017–2018).
REV. DR. SHANTHI SUDHA MONICA is an Associate Professor in the Department of New Testament at GLTC, Chennai. She earned her Bachelor of Theology (B.Th.) degree from the Hindustan Bible Institute, Kilpauk, Chennai; Bachelor of Divinity (B.D.) and Master in Theology (NT) from the Gurukul Lutheran Theological College and Research Institute. After finishing M.Th., she taught at the Serampore College, West Bengal (1997-1998). Later she served as the faculty member of Gurukul (2001– 2007). She served as an ordained minister of the Baptist Church, Chennai (2014-2018). She secured the Doctoral Degree from the Senate of Serampore College [University] in 2018 (FFRRC). She re-joined Gurukul as faculty member in 2019 and serving as an Associate Professor of New Testament and she is the Dean of External Studies Program.
REV. V. JOHN PRADEEP KUMAR serves as an Assistant Professor of New Testament at Gurukul Lutheran Theological College, Chennai. He is an ordained priest of the Andhra Evangelical Lutheran Church and served a rural church in Andhra Pradesh for four years. He completed his secular degree B.Sc., (2009) from Acharya Nagarjuna University. He has studied B.D. (2009-2013) and M.Th. (2018-2020) at the United Theological College, Bangalore. He is also an artist with theological imagination.