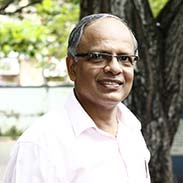 REV. DR. EDWIN JEBARAJ
Associate Professor and Head of the Department
M.A., B.D., M.Th., D.Th.,(Senate of Serampore College [University] - FFRRC)
Church Affiliation: Church of South India
Contact Number: +919786166912
Email: edwinjebaraj2013@gmail.com
REV. DR. EDWIN JEBARAJ is a Presbyter of the Church of South India (Kanyakumari Diocese) and serves as Associate Professor and Head of the Department of the New Testament Department at GLTC. He has completed his secular degree M.A. from the Christian College, Marthandam, (1987). He has secured his B.D. degree from the Serampore College (1989-1993) and M.Th. from North India Institute of Post Graduate Theological Studies (NIIPGTS), Serampore (1998). He has completed his doctoral studies (D.Th.) at the Federated Faculty for Research in Religion and Culture (FFRRC) in 2010. He has been engaged in the pastoral ministry in the CSI Kanyakumari Diocese for almost seven years (1985-1989, 1993-1996). He has more than 19 years of teaching and administrative experiences in various theological seminaries. He has served in Gospel for Asia Biblical Seminary, Thiruvalla, Kerala (1998-2001, 2004-2010), Southern Asia Christian College (2010-2017), Indian Theological Seminary, Chennai (2017–2018).
Pauline studies and Apocalyptic Literature.
Academic Publications (Articles):
"Justice and Renewal of Mission," Navajeevanandam, Vol.1, no. 1, (2011): 68-83.