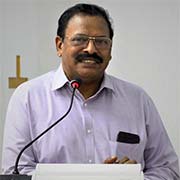 Professor
M.A., B.D., M.Th., Ph.D., (Madurai Kamaraj University)
Ph.D., (Lancaster University, UK)
Church Affiliation: Church of South India
Contact Number: +919952289235
Email: [email protected]
REV. DR. JOHN SAMUEL PONNUSAMY is a Presbyter of the Church of South India and serves as the Principal and Professor of Old Testament at GLTC. He has completed his B.D. degree from the Tamil Nadu Theological Seminary (TTS), Madurai and M.Th. (Old Testament) from the United Theological College, Bengaluru. He has earned his Doctoral Degrees (Ph.D.) from the Lancaster University, UK and Madurai Kamaraj University. Dr. Ponnusamy has served on the faculty of Tamilnadu Theological Seminary in the Department of Old Testament for many and have also shouldered several other administrative responsibilities.He has guided many Post-graduate and Doctoral Students. He was also heading the Institute of Indian Ecumenical Theology of the Ecumenical Christian Centre, Bengaluru. In addition, Dr. Ponnusamy also served as the visiting professor in Northern College, Manchester U.K. and Pacific Theological College, Fiji.
Eco-Theology, Climate Justice, Liberation Theology, Jewish Interpretations and Holocaust Theology.
Abraham and Isaac in Interfaith Traditions, New Delhi: ISPCK, 2009.
In the sheer sound of Silence, Madurai: TTS Publications, 2015.
"Dalits, the crushed ones," London: USPG, 1998.
"The Post Holocaust Interpretations of the akedah," Madurai: AJTR, (13) 2000.
"Peace and Conflict Resolution," Mission Intelligence (2) 2004.
"Dawn of Eternal Peace," Peace at hand, ed., P. F. Ravichandran, Chennai: Mighty Rock Publications, 2004.
"The Violence of poverty," Peace at hand, ed., P. F. Ravichandran, Chennai: Mighty Rock Publications, 2004.
"Towards the Fullness of Life: Between the Flood and the Rainbow," AJTR (17) 2004.
"Towards the Biblical Understanding of Water," in Waters of Life and Death, ed., Sam P. Mathew and Chandran Paul Martin, Chennai: UELCI Press, 2005.
"The Blood and Ashes of Isaac in Judaism and Christianity, A Polemic or Dialogue!" SATHIRI, (1) 2006.
"The Convergence of the creation stories in Hindu, Jewish, Christian and Islamic Faiths," in For such a times, Essays in Honour of Bishop Jebenesan, Jaffna: American Ceylon Mission Press, 2006.
"Exodus Story: Myth and History," AJTR (22) 2009.
"A Methodological Discussion on the Interpretation of the Hebrew Bible," Issues in Theological Research: A Methodological Exploration, Bangalore: BTESSI- SATHIRI, 2010.
"Biblical perspectives of the Disabled," Embracing the Inclusive Community: A DisabilityPerspective, Bangalore: BTESSI-SATHIRI, 2010.
"Participating in the Mission of God: Biblical Foundations and Perspectives,"Participating in God's Mission Today, ed. Santhosh Kumar, UTC Publications,2011, pp.15-25.
"Biblical Reflections on Climate, Climate change and Climate Justice," Theologizing in India Today, Bangalore: CISRS, 2012.
"Identity and Mission in the context of Hate culture,"Religion and Society, Vol.61, 2016,pp.102-109.
"Identity and Mission in the Context of Resistance Culture," Religion and Society, Vol.61, 2016, pp.110-116
"Eco-Linguistics," Earth Bible Sermons III, Delhi: ISPCK, 2016, pp.192-207.
"Biblical Reflections in Illegal Wild Life Trade," in Earth Bible Sermons III, Delhi: ISPCK, 2016, pp.145-155.
"Eco Reading of the Parables,"Green Parables, CSI Synod Publications: Chennai, 2016, pp.125-135.
"Interfaith Dialogue in Biblical Perspective," in Reclaiming Diversities in Secular India, ed.,Sentiwate Alen and LimatulaLongkumar, Espace: Calcutta, 2019, pp.141-152.
"Person and Disability in Hebrew Bible" in Disability Theology from Asia, ed., AnjelineOkola and andWatiLongchar, Espace: Calcutta,2019, pp.129-136
"Beauty and Aesthetics of Friendship, Family and Human sexuality: A Theological Reader, Nagpur: National council of churches in India, 2016, pp13-22
"Homosexuality in the Bible, Family and Human sexuality: A Theological Reader, Nagpur: National council of churches in India, 2016, pp 23-30.
"Economic and political justice, Bible and the Theology from the Underside of Empire," Durban: Sun Press, 2016, 123-136.
"To Mend a Broken World: Tikkun Olam, Bangalore Theological Forum, United Theological College, Bangalore: National Press, 2019, pp 59-69
"Torah and Children," in Embracing Childhood-Embodying Childhood, ed., Songram Basumatary and GladsonJathanna, Gurukul Publications: Chennai, 2019, pp.11-19